Digital Videos:
Details on the DVD release of Club MTV Party To Go, Vol. 1
This DVD is a collection of music videos from MTV. I'm not sure if the track listing is the same as the CD release of the disc. (Do You?)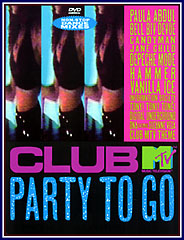 Assumed Tracklisting
Chapter
Artist
Title
1
Hammer
Turn This Mutha Out
2
Bel Biv Devoe
Poison
3
Tony! Toni! Tone!
Feels Good
4
Paula Aboul
Knocked Out
5
Information Society
Think
6
Vanilla Ice
Play That Funky Music
7
DNA featuring Suzanne Vega
Tom's Diner
8
Candyman
Knockin' Boots
9
Digital Underground
The Humpty Dance
10
Jane Child
Don't Wanna Fall In Love
11
Depeche Mode
Personal Jesus
This DVD should be relatively easy to find. The track listing above is taken from the CD version of the list, not the DVD, as I haven't found that track listing yet.