Digital Videos:
Details on the DVD release of Freelove DVD Single
This DVD is Depeche Mode's first DVD single release.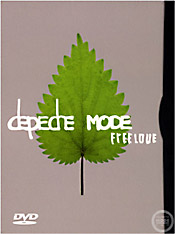 Tracklisting
Chapter
Title
1
Freelove - Live
2
Breathe - Live (Audio Only)
3
Dead Of Night - Live (Audio Only)
4
Four Short Films
This release only takes advantage of a few of the resources that the DVD platform has to offer. It includes the title track a live version roughly sync'd up over an odd collage of low-quality video footage from the show. It's really quite disapointing. However, the "Four Short Films" do bring a *lot* to the DVD even though they are very short. The behind the scenes looks are really good, in particular the track that has Dave on location shooting the Freelove video.