Digital Videos:
Details on the DVD release of Reprise Music Video Sampler
This DVD is a collection of music videos that came with some DVD players, out of the box. I don't think it's available commercially. The groups listed were all signed to Reprise Records at the time the collection was made.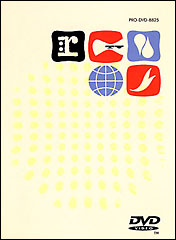 Tracklisting
Chapter
Artist
Title
1
Mike Oldfield
Let There Be Light
2
Wilco
Outtasite (Outta Mind)
3
Depeche Mode
Barrel Of A Gun
4
The B-52's
Roam
5
Holly Palmer
Different Languages
6
Chris Isaak
Think Of Tomorrow
7
Barenaked Ladies
The Old Apartment
8
Belly
Feed The Tree
9
Filter
Hey Man Nice Shot
10
Dinosaur Jr.
Feel The Pain
11
The Muffs
Sad Tomorrow
12
Muzzle
What A Bore
13
Lush
Ladykillers
14
Love In Reverse
Blueprint For A Possible Song
15
Me'Shell Ndegeocello
Who Is He And What Is He To You
16
Paul Brandt
I Do
17
Texas Tornados
Little Bit Is Better Than Nada
18
Nu Flavor
Sweet Sexy Thing
19
Nu Flavor
Tu Sexy Tu
("Sweet Sexy Thing"
Spanish Version)
This promo is rather hard to find, but may be available in 2nd hand DVD re-seller's stocks.