Digital Videos:
Details on the DVD release of The Videos 86>98
Finally Depeche Mode videos in a digital, accessible format. It took a while but we finally have most of the videos from Black Celebration onward compiled into a single disc. We also get an Interview and A Short Film to take up some of the left over room. Don't be looking for extra goodies, because there are none.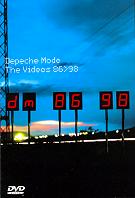 Tracklisting
Chapter
Title
01
Interview with Depeche Mode
02
Stripped
03
A Question Of Lust
04
A Question Of Time
05
Strangelove
06
Never Let Me Down Again
07
Behind The Wheel
08
Little 15
09
Everything Counts [ live ]
10
Personal Jesus
11
Enjoy The Silence
12
Policy Of Truth
13
World In My Eyes
14
I Feel You
15
Walking In My Shoes
16
Condemnation [ live ]
17
In Your Room
18
Barrel Of A Gun
19
It's No Good
10
Home
21
Useless
22
Only When I Lose Myself
23
Depeche Mode 'A Short Film'
Still waiting for a few things like the actual video for Condemnation, but hey it's a start. Will we ever see Mode's pre-BC videos released, and will they include a laugh track? Will Strange ever be released in a DVD format? Hopes for yes, but economics predicts No.