Appearences by Karmann-Ghias in Films and Video
Page 1
First up is Alfred Hitchcock's Vertigo where the character Marjorie (played by Barbara Bel Geddes) drives an early model green coupe. Second, the film Love Potion No. 9 which has an early appearence by Sandra Bullock.
Bill G. told me that in the Cindy Lauper film, Off and Running, a Ghia is featured. Jason Rehm, purveyor of a wonderful KG page pointed out that both So I Married An Axe Murderer, and Pretty in Pink have our beloved V-Dub Debutantes in them. In the ABC television movie, The Devil's Child, the mother of the child of Satan drove a green cabriolet that looked to be '71 model.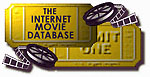 "Very brief red Ghia in the movie The Saint. It was while he was crossing a street, the Ghia was heading toward him (Val Kilmer)," noted Bill Witte. I saw an edited version of The Man with Two Brains with Steve Martin. There's a beautiful shot of a red late model Ghia, about 1 hour and 40 minutes through the film. A big thank you to Jason for a big list of movies including The Rock (during the cable car scene), That Thing You Do! with Tom Hanks (has a dark green 'vert), and Dear God (a movie which was made in 1996), stars Tim Conway and has a green Ghia that is in many scenes.
John said that he will always remember one Ghia in a movie called "If You Could See What I Hear" starring Mark Singer. It has a 60's model convertible driven around by the college students during summer break, including the BLIND one, (Singer), who does so because, as they explained to the police officer, he was the "least drunk"!
Stephen Cairns kindly reminded me of the film Sneakers with Robert Redford and Sidney Portier. "The film has reasonable lengthy footage of the two above in some erratic driving of a red convertable Ghia, looks about '70/71."
Johan Lundmark wrote in saying, "I think I saw a ghia not givingİthe double-o a lift when he escapes from some sort of circus. It's a late ghia with the top down and (I think) broken taillights... I don't remember title of movie, but I think main theme is an atomic bomb placed in the circus in East Germany." Fortunately Chris Geissler mailed and confirmed that this was the mid-career of Roger Moore's Bond run in Octopussy.
Kelly Bates survived a Jim Carrey movie and lived to tell about a Ghia being driven in "The Cable Guy." Anyone else want to point out what kind it was? David tells us to check out the movie "Backdraft" with Kurt Russell, where there's a Ghia at the very begining, parked on the road.
John ( from ghiaspecialties.com ) wrote in to say that The Harder They Come has a 50's Ghia in it. This is the only 1970's movie listed to date. However, Rolf-Stephan Badura, gave me some notes on a '70's era TV series called the Persuaders. He sent some stills of the show as well. He also said that there is a Ghia in the background of a scene from Star Trek IV which he also sent along.
And then it happened. I met my match!