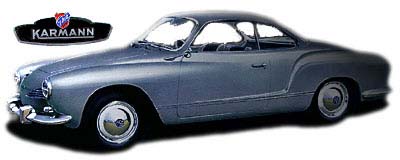 Yeah, Baby! Check out the 1/18th scale model Ghia... My style of Ghia-me!
The Volkswagen Karmann-Ghia is a wonderful machine, not a toy. Elegant, simple, fun.
In 1994 I had a 1967 coupe that lasted all of three months in my time of driving. I bought Eleanor on April 14th. She was stripped of much of her chrome, but in pretty good shape, with one really bad spot in the under car pan. I found her the day before the owner was going to put it up for sale for $650. It had a great engine, and except for the owner having forgotten to tighten the bolts on the rear driver's wheel. In late may, as I was driving to work on I-5 (the interstate freeway), I felt the car tip back a bit. I looked out my rear view mirror just in time to see that rear wheel flying through the air, heading towards the side of the road, and down a very steep embankment. I got the car stopped alright and was picked up by my boss just a half-hour later. Never did find that tire...
You can find more logos that are associated with the Karmann-Ghia here.
That's not the end of the story however. By mid July everything was looking great. I was all set to move out of my parent's house and up to Portland (at the tender age of 19). Again I was driving to work, however since the previous incident I had been taking Highway 99, which parallels the freeway. Heading into the town of Rogue River, I was following a VW Vanagon. It was signaling a left turn to head into downtown. I foolishly attempted to pass it on the right where there was plenty of room. As I began to pass, the van suddenly began to turn right, with it's left turn signal still on. I turned further right, heading straight to a grocery parking lot at 30 miles an hour. Eleanor and I crashed right into an empty VW Jetta that was for sale for $450.
I ended up with an ambulance ride, and stitches from my upper lip to my nose. Eleanor ended up with a crushed driver's side front quarter. As Ghia's have a 'unibody' construction, this was to be a huge repair job to get her back into working shape. As of Summer of 2000, she still sits, wrapped in a tarp under a tree at my parent's house.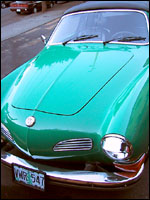 Speaking of the summer of 2000, that's the same time that I became the proud owner of Viva, a '73 Convertible. She's in beautiful shape, steers like a truck and drives like a dream. She's got an original color for the body: Zambesi Green (L64K) (although sometimes spelled Zambezi Green). At this point the only cars I've ever owned have been Ghias...
At some point I will be sending off for the Vehicle Identification Certificate from the Volswagen AutoMuseum. I found the address when a person on a mailing list posted their faxes, which I recreated as GIFs and PDFs on this page.
And now for some links: Ghia news, Ghia stories, Old dead famous site. KGs were manufactured from 1955 to 1974. (The year I was born.)
The two names in the vehicle's model name come from the two companies that were so involved with it's development: The Karmann Motorworks of Germany and Carrozzeria Ghia of Italy.
On a brighter note, I'm compiling a list of movies and other appearances for Karmann-Ghias. So far I've got page 1 and page 2.