Digital Videos:
Details on the laser disc release of Strange
This laser disc is the first collection of videos that Depeche Mode developed in colaboration with Anton Corbijn. It's also the first video release that had a single consistant track listing around the world.
The following appears on the sleeve:
strange is a black and white movie about and with depeche mode. based on love or life or lust or maybe nothing in particular, and was filmed in france, usa, spain, uk, denmark and italy.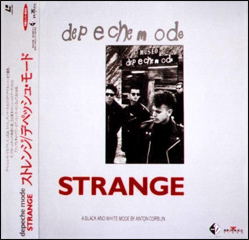 Apparent Tracklisting
Chapter
Length
Title
1
[time]
Agent Orange
2
[time]
A Question of Time (Remix)
4
[time]
Strangelove (Bomb The Bass Remix Edit)
3
[time]
Never Let Me Down Again (Split Mix)
6
[time]
Behind the Wheel (LP Version)
5
[time]
Pimpf
The laser disc release of Strange was only available in Japan. On this page I originally had a conceptual mockup of the cover of this hard-to-find release. In 2002, Gary Lornie provided me with scans of the front and back of the Japanese release. (Thanks Gary!). Gary also noted that a Promotional version of the release was available somewhere in the UK. The only difference is a "red sticker in the bottom corner (back sleeve left) ..in Japanese to say its a promo."