X1 & X2:
Limited Edition
Depeche Mode
Box Set
---
X1 and X2 are two highly prized black boxes of compact discs. Collected on these eight discs are Depeche Mode tracks recorded and mixed from the years 1981 to 1991. Many of these tracks are difficult to find on compact disc. In fact, one song, Are People People?, had been completely unavailable in digital form. As these Boxes are no longer produced and there was only a limited run, they fetch anywhere between (US) $150 to $450.
The discs themselves were produced by Alfa Records of Japan in conjunction with Mute Records, Ltd. All copies were pressed in one day. Alfa Records is now no longer in business.
Disc Title
Disc Subtitle
Number
uno
(Italian)
The Twelve Inches
ALCB 201
zwei
(German)
The Twelve Inches
ALCB 202
trois
(French)
The Twelve Inches
ALCB 203
four
(English)
Strange Mixes
ALCB 204
cinco
(Spanish)
Instrumentals
ALCB 205
sex
(Swedish)
B-sides
ALCB 206
ceMb
(Russian)
Live One
ALCB 207
oziem
(Polish?)
Live Two
ALCB 208
Production
The Boxes were released in April 1991 and limited to a run of 5000. The discs have the catalog numbers ALCB 201 through ALCB 208. ALCB is the standard prefix for Alfa CD releases.
It is said that the set took three years to be released after it was initially planned. X1 and X2 were not the same project as "Chronicles" which was the title of another release that Alfa was developing.
Designers
The Boxes, including the jewel case inserts, the disc faces, and the accompanying pamphlet were designed by T+CP Associates. Further details concerning the art and design are available.
Titles
Each of the discs have a title that is a number from a different language. Additionally, the discs focus on a particular set of songs as identified by the subtitle. For example, disc five is Sex (six in Swedish) and is subtitled "B-sides". It has a good selection of the non-album tracks that have been included on singles.
Bad Flaws
Although strong attention to detail given to the the design of the set, there are a number of production flaws. The printing of the booklets in each of the boxes suffer from drop-outs in the individual letters at various points. A few of the tracks are mis-labled and there are some audio production problems:
The mix of "Shake The Disease" on disc "zwei" is in fact the Remixed Extended version.
"My Secret Garden" on "cinco" is actually "Further Excerpts From My Secred Garden".
The right speaker channel drops out on "Shout!" on disc "cemb".
The audio drop out continues on to the next track "Photographic".
The credits for tracks on Disc 7 and 8 are very wrong.
Good Flaws
However there are a number of 'good' mistakes as well. Two of the songs have alternate endings from the 'usual' releases:
Get The Balance Right (Combination Mix) on disc "trois" does not fade out as on the usual single release, but has a different ending that simply ends.
Enjoy The Silence (Hands and Feet Mix) on disc "trois" is edited slightly at the end.
Although track 4 on disc "zwei", is listed as A Question Of Time (New Town Mix), it includes the "Live Mix", and is treated as one mix, like on the re-released CD BONG 12 from the Singles Box sets.
I have been told that these edits may have been made for European radio shows. See the Comments page for more details.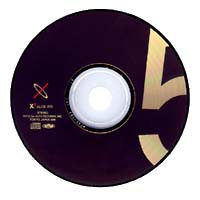 Wishes
There are a few things that would have been nice in this collection. On "four", Strange Mixes, it would have been interesting to put the ON-USound Science Fiction Dancehall Classic Remix of Master and Servant by Adrian Sherwood, as this can be considered a companion track to Are People People?, and it certainly is strange.
A few more of the Violator remixes would have been nice; conspicuously absent are mixes of World In My Eyes and Policy of Truth. The "sex" B-sides disc does not have any of the Violator B-sides. These last two requests may have been hampered by the fact that the Boxes were released only 6 months after World In My Eyes was released as a single; the tracks were certainly collected and mastered months in advance of the final release.
Mysteries
Some of the mysteries have been cleared up, like the different endings and the odd disc names. Check out the Comments page.
For Sale
As of April, 1999, Matt Linton <mlinton-at-relaypoint.net> is selling his copy of X1 and X2. Contact him directly.
There are 2 new places for DM collectors to meet, share their experiences and feelings: Depeche Mode Collector Message Board (www.depmod.com) and Depeche Mode Collector Mailing list [x1x2]. To subscribe send empty mail to: x1x2-subscribe@egroups.com
---
Further Resources:
Track Listing for all discs.
Art and design information and comments.
Article from Music Collector magazine.
Original releases of the tracks are listed here.
Comments from people viewing this site.
Contact the author.