X1 & X2:
Sample Jewel Case Back
The back of the jewel cases are very simple. The title of the disc and a simple tracklisting are on top of a background that is a blurred version of what maybe the "Route 66" image from 101. The sample case shown here has the following text:
Instrumentals
depeche mode
cinco
Any Second Now
My Secret Garden - Oberkorn (It's A Small Town) Development Mix
The Great Outdoors - Christmas Island Extended
It Doesn't Matter Two Instrumental - Fpmip
Agent Orange - Stjarna - Moonlight Sonata
Memphisto
X2 ALBC 205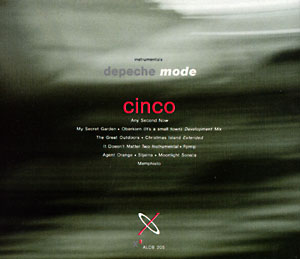 ---
Further Resources:
General Information about X1 and X2.
Track Listing for all discs.
Art and design information and comments.
Article from Music Collector magazine.
Original releases of the tracks are listed here.
Comments from people viewing this site.